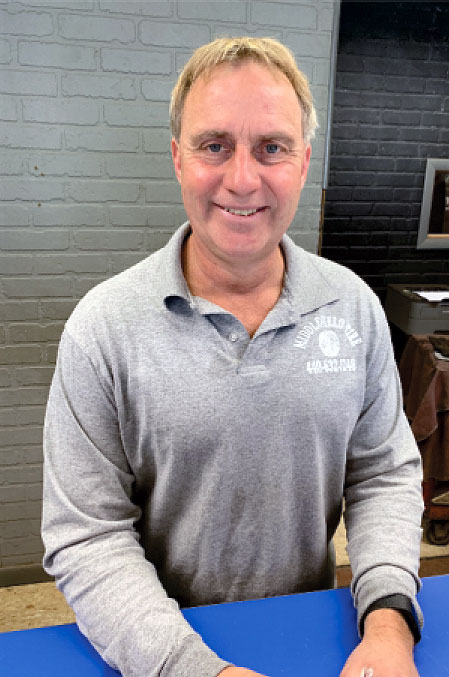 Middlefield Tire, family-owned and operated since the 1970s, was purchased by Frank Mormino in 1992. He expanded the business from an undercar garage to a full-mechanical car-care center. Frank is truly the face of Middlefield Tire and can be seen working the front counter, running errands, shuttling customers to and from while their cars are being repaired. Frank does a lot of "behind the scenes work" including bookkeeping, social-media updates, and performing maintenance around the shop. The most important part of his job is keeping customers happy! Frank grew up in Chesterland and through many years in this business, he has become part of the Middlefield community. In his spare time he loves to golf and target shoot. Frank lives in Newbury with his wife and two daughters. Stop in and make sure to say "Hi" to Frank. He would love to help you!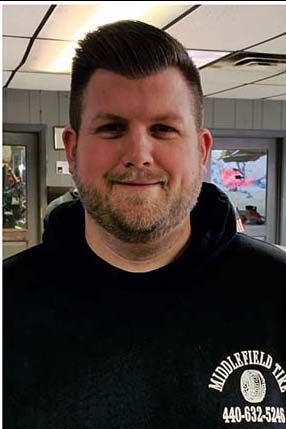 If you've been to Middlefield Tire, then you have probably met Matt Johnson. Matt a member of the Middlefield Tire team for eighteen years, works as a service writer, answers phones and helps customers. Having grown up in Parkman Township, he has lived in this area for his entire life. In the "little spare time" he has, Matt is out on the greens golfing!
When you go to Middlefield Tire, make sure you say "Hi" to Matt. He will take great care of you and we'll take care of your vehicle.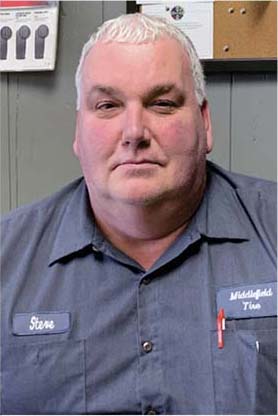 Steve Ayres has worked at Middlefield Tire for 13 years as an auto technician. After years of working on cars, he recently moved to the service advisor position. Steve knows the auto industry well. His father owned a similar business so he was raised around car repair. He's been working on cars his entire life. Since moving in to the service advisor position, you'll find Steve at the front desk helping customers or cracking jokes! His favorite part of the job is getting to know everyone. Steve grew up in Champion. He has two children that are grown, so he spends his free time visiting family, hunting, fishing and target shooting. Stop in to Middlefield Tire and let Steve set up your appointment to make sure your vehicle is fully serviced and ready for a road trip!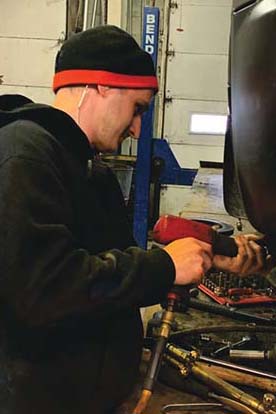 Kevin Stoops has been working for Middlefield Tire for five years. When Kevin started he was working part-time changing oil and tires. He has since graduated from Trumbull Career Technical Center and is now a certified, auto technician. Kevin grew up in Middlefield and has been part of the local community all of his life. He has always been mechanically inclined; after getting off the bus from school, Kevin would go into his garage and putter around, working on his own cars. One of the things Kevin enjoys doing while not working is playing his guitar. Stop in to Middlefield Tire and it will be music to his ears!