Automotive Tech wanted for our fast-growing auto repair shop. looking for entry level mechanics and top level mechanics. Top level applicants must have experience in a full service garage, certification a plus. Must have own tools, work on various makes/models. Friendly work environment. Paid holidays and bonus program. Pay based on experience and knowledge.
Apply in person at Middlefield Tire, or call 440-632-5246
WELCOME TO MIDDLEFIELD TIRE
"Our Success is riding on your complete satisfaction!"
We are family-owned since 1980. We offer auto and truck tires along with a wide variety of products and services to enhance vehicle performance. Our A.S.E certified technicians service customer vehicles right the first time.
We look forward to meeting you and being your trusted car care provider as well as a friend. We pride ourselves on being family owned and will welcome you to being part of our Middlefield Tire & Car Care family.We gladly accept Visa, Master Card, and Discover.
We offer Shuttle Service and Loaner Cars free of charge.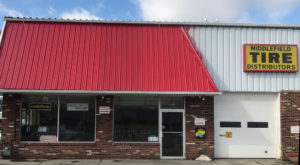 Hours of Operation
Monday to Friday
8 AM – 5:00 PM
(shop closes at 5 PM)
Saturday – 8 AM -12 PM
Sundays – closed
Expert Tire Service
Computerized Spin Balance
Disc and Drum Brakes
Mufflers and Exhaust
Engine Performance Diagnosis
Quality Tune-ups
Oil and Lube Service

Fuel and Water Pumps
Front End Alignment
Shocks and Struts
Air Conditioning
Radiators
Fleet service
Batteries, Belts, and Hoses